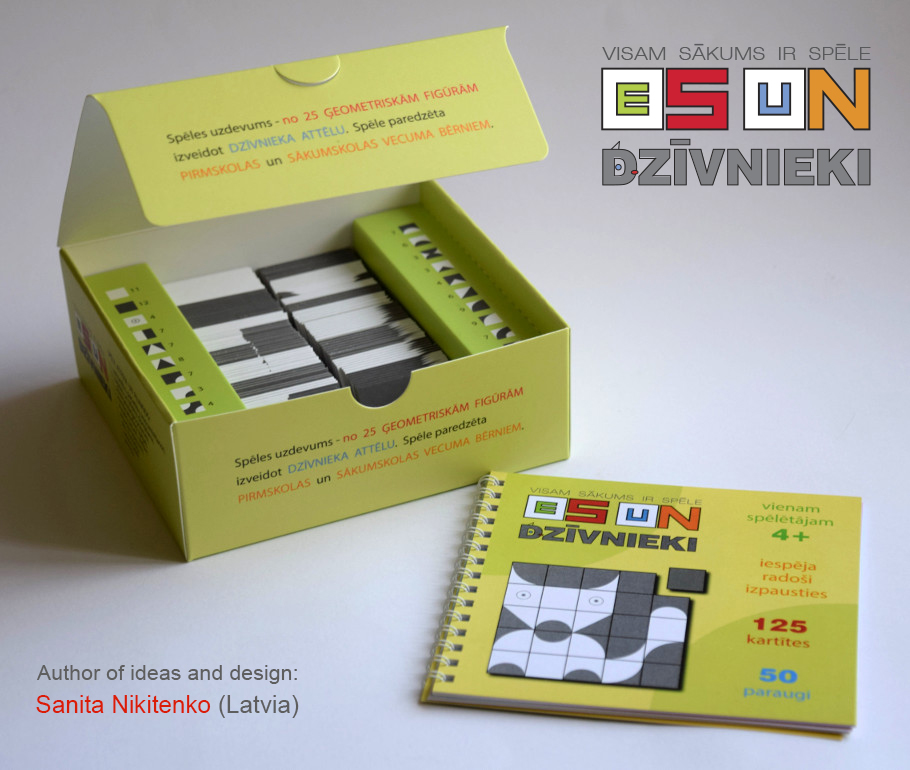 A game for one player between the ages of 4 and 12. Not for children under three years of age.

Game components:

* 125 cards;

* book with 50 samples;

* box for storing the game.

 

The task of the game: to assemble an image of an animal from 25 geometric shapes. Although 50 samples are offered, the player is given the opportunity to create their own pictures of animals or come up with new rules of the game.

 

The book is divided into three parts, which correspond to different levels of difficulty.

 

In the easiest part, the animal samples are shown so that you can understand which cards have been used. Next to the image is the name of the animal in Latvian and a small square on which a mark is made when the image is completed.

 

In the creative part, the player is offered ten squares of the playing field, in which to paint his created image of the animal.

 

In the most difficult part, the same animals are offered as in the easiest part, but as silhouettes, without card splitting.

 

The game develops: visual perception, attention, logical and imaginative thinking, creative imagination, visual combinatorics, systematization, fine motor skills, memory.
The game has rules in English and Russian.
____________________________________________
Game price: 23 EUR (postage is not included in the price).
Ordering the game
To order the game, please contact sanita.nikitenko@gmail.com, indicating:
* the required number;
* beneficiary's address (parcel post).
Bank Transfer
As soon as money (game + postage) will be transferred to the account indicated in the e-mail, the author will send the game to the recipient. Game will be placed in a cardboard box.
Mājas lapā ievietoti oriģināli autores darbi, nevis kopijas vai tulkojumi no citām tīmekļa vietnēm. Rakstus, zīmējumus, idejas un fotogrāfijas nedrīkst pārpublicēt bez autores piekrišanas, kā arī nedrīkst izmantot komerciāliem mērķiem.
© Sanita Nikitenko
---